During COVID-19 Lockdown, there is a need of SOS...
Educational Institutes, school, colleges , coaching classes and training institutes, have a key role in the future of a country. Teaching and learning is continuous and is not restricted within the walls of a school. With Upswing Classroom, you can have a virtual school, and not just classroom.
Get Access To Your Account
Exclusive for Educational Institutes
Our product seamlessly transits your school online, helping you operate the classes as scheduled.
Modern Responsive Design
Upswing Classroom works at ease on mobile phones reducing the dependencies on computers and tablets.
Teaching Tools
All the tools that a teacher needs to teach like whiteboard, student interaction, and forming groups are available here.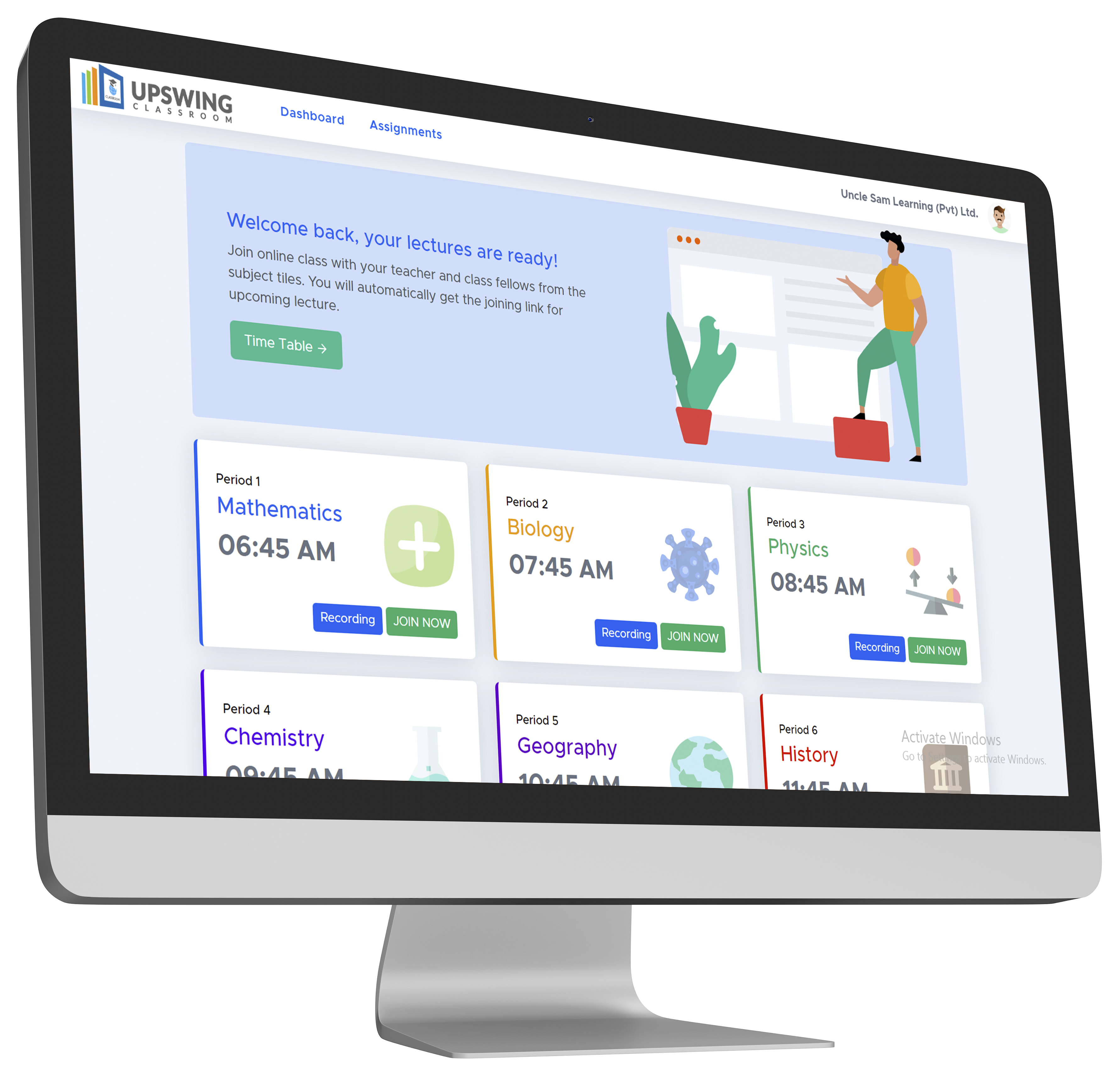 How Upswing Classroom Helps You Conduct School Online?
Timetable
Schedule classes for each grade and assign teachers to conduct the session as per the timetable.
Online class
Conduct online classes using whiteboard, sharing presentations or screen with students. 40-100 students can attend a class.
Attendance of students
The attendance is generated automatically once the student logs into the session.
Doubts and Discussions
Our chat features allows one-to-one discussion with the teacher. Furthermore, the teacher can open classroom discussion or group discussion using chat feature.
Assignments
Assign task to students in form of questions or worksheet using Upswing Classroom. Students can upload the assignment using mobile phones.
Evaluation
Correction tools in the Upswing Classroom allows a teacher to correct the assignment and leave comments and marks.
---
New Features
For simple and complete solution
Record your video for asynchronous learning

50 Videos of each 3 GB size can be uploaded in a month

Videos available for viewing by students at their convenience

15 days period for a video to be seen by students
Make videos interactive

Insert MCQ questions in between the video

Upload a video from YouTube and edit by adding questions
Create a pdf of the question paper

Upload the entire paper for students to access and attempt it

Upload the notes and make it available to students for asynchronous learning
Frequently Asked Questions
How many students can participate in a class or session?
40-100 students can attend a class. More than 100 students will depend on the bandwidth of the network used by the teacher.
What if a student misses the session?
All the sessions are recorded. Students and teacher can view the session later.
How does a student upload the assignment?
A student can take the picture of the assignment and upload it against the question of the assignment.
What is the way to manage interaction during a session?
Teacher can switch off and on the video and audio of students as per the need of the session.
Modern learning for the modern student
We helps universities and schools improve their student outcomes with secure video communication services for hybrid classrooms.
" Upswing Class Room is really very easy to use for both technical and non-technical users - We just got the membership for our school and their team setup the environment and we are running the system in our institute with no issues. "
Roopa Saryana
" We like that anybody can use it. it's very important to have the most easy way to go and start the class online. This solution has given us a great experience of virtual class room. "
Sumitra Raj
Start teaching beyond the classroom walls!
Get started in 2 minutes, no technical skills needed
---